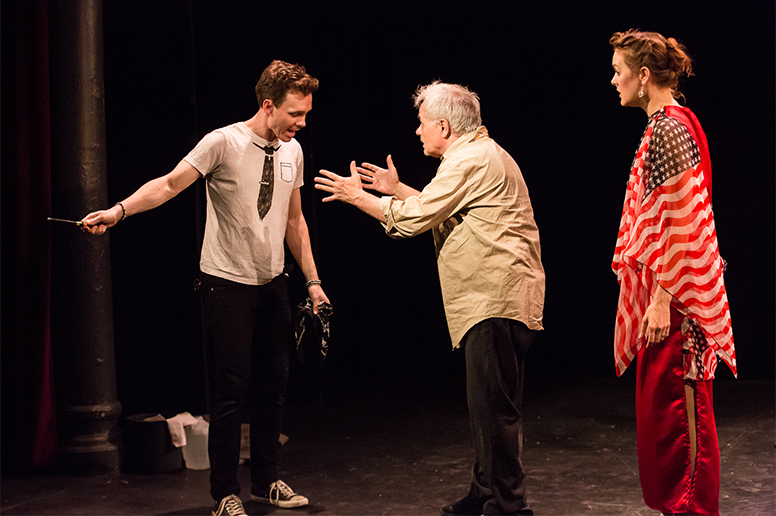 Occasionally Nothing
Full-Length Comedy | 2M | 1F
Synopsis:
The near future. The world is nearing its end. In a bizarre bomb shelter, Harry, Clay and Luella, British expats, cope by taunting each other with warped games of verbal wordplay and by blurring each other's realities while losing touch with their own. A bleak glimpse at life in the dystopic wake of a failed revolution, where war abounds, words have lost their meaning, and people have lost their way. How did the world ever get there?
This prophetic play that premiered at TNC's DreamUp Festival in 2018, a crystal ball chronicle of today's desperate events, foresaw the disastrous trend toward totalitarian behaviour through dictates and mandates.
"No one gets a deathbed anymore," "It's a pandemic apparently," and more caused Crystal Field to proclaim:
"It is hard to believe that Natalie wrote Occasionally Nothing in 2017. Its predictions of what is happening today in 2020 could have come from a crystal ball. A dead-on tale of dystopia with a dash of absurdity, it reminds me of Pinter and Beckett, gives you a lot to think about."
Dream Up Festival 2018
Theater for the New City, New York, NY
Director: Ivette Dumeng
Cast: Sean Hogan, Brad Fryman, Maiken Wiese
Lighting design: Gilbert Pearto; Costume design: Janet Mervin; Sound design: Andy Evan Cohen; Stage Manager: Charles C. Casano. Photos by Al Foote III www.AlFoote3Photography.com.
Production Photos